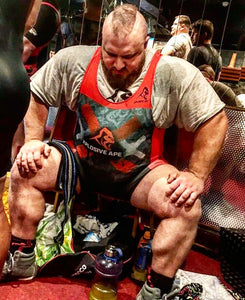 Sam Parker becomes the first British powerlifter to hit a 1000kg total
Sam Parker made history on Sunday by becoming the first British lifter to hit a 1000kg powerlifting total in a raw competition. Standing at 5'9 and weighing in at an earth shaking 173kg (27 stone), Sam hit the legendary 1000kg mark with a 420kg squat, a 245kg bench press, and a 335kg deadlift at the British Powerlifting Union's South Wales qualifier in Saundersfoot.
While other British lifters have achieved higher totals in equipped competitions – with the help of high tensile suits and shirts to boost their numbers – Sam is the first to do so under the British Powerlifting Union's 'Classic Raw' rules, using nothing but a lifting belt and knee wraps to assist him.
The dedication needed to hit these kind of numbers is incredible. Posting on Facebook about his extreme pre-competition bulk, Sam said: "being this size sounded cool until I got here, it feels like what I imagine being in hell would feel like," and continued that he plans to get back down to a slightly more reasonable 145kg (23 stone) within a month.
Watch Sam's insane 420kg squat below.
---