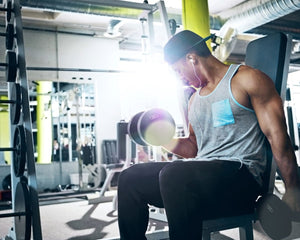 Supersets vs. Straight Sets: Which Will Get You To Your Dream Body Faster?
Supersets have lately been growing more popular for their reputation of being quite effective for strength development, muscle building, and fat loss. A lot of people have even replaced totally the good old straight sets with fully "superset-oriented" workout programs.
What are straight sets and supersets?
Straight set: You do 3-4 sets of the same exercise, you do 10-12 reps in each set, and rest for 1-3 minutes after every set and then you finally move on to the next exercise.
Superset: You group two exercises together. You do 3-4 sets, every set consists of 10-12 reps of each exercise done back to back or you can do each set up to total failure, and you only rest 3 minutes or less after each set or perhaps get no rest at all.
There are several patterns for grouping up exercises in supersets. Here are a few examples:
1- Same muscle groups (e.g. two exercises that target your biceps)
2- Upper body exercise with a lower body exercise
3- Agonist-antagonist pair sets (APS) (e.g. a back exercise with a chest exercise)
So, are supersets really that effective? And, if they are and are perhaps worth incorporating into your workouts, can they be used as a replacement for straight sets or should both modes complement each other?
What Each Type of Sets Does to Your Body
There are multiple muscle-building "pathways," and the ones that your workout program most emphasizes will determine the type of muscle growth that you're expected to undergo.
For the sake of this article, we'll examine two of these mechanisms, namely mechanical tension and metabolic stress, in relation to the two types of training sets we're discussing here.
Mechanical Tension: Quite simply, this occurs through heavy lifting. You lift weights at full force and try to complete full motion ranges. The optimum level of mechanical tension tends to be reached at weights that are 80-90% of your one-rep max.
Metabolic Stress: By putting your muscles through sets of continuous contractions by doing your reps quickly and with little-to-no rest between sets, you cause blood to be pumped harder into your muscles while keeping the blood from escaping due to the contractions. This is what's known as metabolic stress, and that impact usually causes cell swelling which then results in growth.
Do Supersets Promote Faster Muscle Growth?
Supersets have long been known to cause a spike in the amounts of anabolic hormones like growth hormone and testosterone that is bigger than the ones caused by straight sets. However, because these rises in hormonal levels are short-lived and not that significant in comparison to the ones caused by straight sets, their impact tends to be trivial when other factors in both training modes are taken into account. They simply don't translate into a similar spike in strength and muscle growth.
Increasing your Strength
Progressive overload (mechanical tension) has proven itself to be more effective in the way of boosting your physical strength than metabolic stress and the focus on increasing pump. When you're focused on the latter, you immediately give up training intensity and performance to a certain degree due to the short resting periods you allow yourself. Instead, prolonging the breaks between sets would give your muscles enough time to recover and thus enable you to gradually raise your weights and work out at higher levels of intensity which is key to developing your strength.
For the same reasons, however, supersets could have good results on someone who already enjoys a high level of fitness and perhaps has an athletic background. In order to be effective at boosting your strength, supersets require a high level of stamina, one that a beginner would usually lack, which makes straight sets the better choice for them. Once you have enough stamina and can ensure that your supersets don't eat into the weights you usually work with and that you're doing enough reps, APS can actually help you develop a level of strength that is unmatchable using straight sets thanks to the complexity of the workout.
Which is Better for Weight Loss?
If you're aiming at weight loss, then the formula is quite simple: burn out more calories than you take in and you'll start losing weight. In order to properly use supersets in losing weight, you'll need to make sure you're using the shorter rest periods in order to do more reps over one workout session than you would have managed using straight sets. That would definitely push more calories out of your system. If you're only doing supersets to shorten your workout session without increasing your reps, however, you'll be worse off than if you used straight sets because at least the rest that you'll get between straight sets would let you life heavier weights and, thus, burn more calories.  
A case can be made that intense weight training which, of course, can be achieved through supersets might give the same results as moderate-to-high intensity cardio in terms of weight loss, but that's about all that supersets can match cardio training at. When it comes to heart health, blood glucose levels, blood pressure, etc., cardio remains irreplaceable.
The Takeaway
The takeaway here can be that you always need to mix your workouts up. Both supersets and straight sets can be effective in certain ways. You need to define your goals, know your physical capabilities and stamina level, and decide what balance of both types of sets you need in order to get to your dream physique without burning yourself out and eventually harming your results.
Keep in mind that supersets are only safe and effective with accessory movements that are targeting isolated muscle groups like chest or biceps, for instance. Do not do supersets in full body movements like, for example, squats. Here you can stick with the good old straight sets since your body will need some rest in order to recover from full body movement exercises and without that your performance will inevitably drop and there will be an absence in results.
References:
When Should I Use Supersets Versus Straight Sets? (2018, May 21). Retrieved from https://www.mensjournal.com/health-fitness/when-should-i-use-supersets-straight-sets/
Pollen, T. (n.d.). The 3 Essential Workout Methods for Muscle. Retrieved from https://www.t-nation.com/training/3-essential-workout-methods-for-muscle
Should You Use Supersets to Build Muscle Faster? What 18 Studies Say. (2018, September 17). Retrieved from https://legionathletics.com/supersets/
---